Plans are made to be unmade. That's a fact, and I'm living life under this idea for a while now.
The planed movie for this day was Cake, the new acclaimed Jennifer Aniston's film, that I'm looking forward to see. But life got in the way in a good manner, and I ended up with my beloved niece watching a movie that she wanted for me to check.
Wild Child
is a fun teen movie, with a lot of cliches - and we laughed with each simple one of them. We had soda, french fries, chocolate, laughs, witty comments, some anxiety (mine) about the difficult times the silly protagonist that turns-out-to-be-a-good-person goes through, and so. My niece was amused at my reactions, specially when I exclaimed constantly: What? No!!! What's going to happened??? She looked at me from the highness of her knowledge and answered every time with: wait and see, with a Monalisa smile at me.
The cast here is noteworthy: Aidam Quinn, Emma Roberts (unrecognizable at first), the funny angry faced Shirley Henderson in a sadly too stereotyped (She is the best in the remake of Taming of The Shrew in the series ShakespeaRe-Told). But the most remarkable here is that it is the last Natasha Richardson's film before her tragic death in 2009.
I'm heading to the cinema now to see Cake, I hope. But another change of plans like yesterday's is always happily welcomed.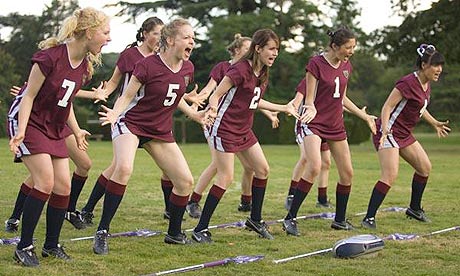 An amusing reference to the All Blacks' Haka

Wild Child. Directed by Nick Moore. With: Emma Roberts, Aidan Quinn,
Natasha Richardson, Alex Pettyfer. Writer: Lucy Dahl (her one and only
screenplay). US/UK/France, 2008, 98 min., Dolby Digital, Color (Netflix).