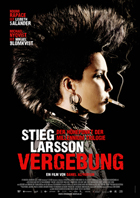 With The Girl Who Kicked the Hornet's Nest (extended version) I got to the end of the Swedish movies for the Millennium trilogy. Finally.
The movie has a different pace from the other two - the second one I've seen just a few days ago. The third instalment presents less action, more suspense, more complicated intrigues and secrets (I was still chewing my poor nails though). The personal sphere is transcended to the public one, and Lisbeth's story is not only about a wronged girl anymore.
I love the dynamics between Lisbeth and Mikael - they are connected even from a distance. And at this movie I changed my view about a subject that annoys me a lot in the books: how characters are able to identify the changing expressions of each other. Sentences like "he had a painful look, but it disappeared immediately" are really annoying. Go figure. Sure, we can identify other people's feelings by their expressions, but I think this gets a bit too far on the books. However, and a big one but, in one of the last scenes, Noomi Rapace and her outstanding performance as Lisbeth proved me wrong one more time. And I was happy with that :)
Every time I see the movies about the
Millenium
Trilogy,
I wish I'd read the books. And at the next moment I change my mind. Maybe a couple of years from now, after these movies had vanished a little from my mind (which is not difficult with my weak memory). The story has many layers, and despite having said before that the movies, good as they are, would be enough, I still get the feeling that much more wait for me in Stieg Larssons's books.
The Girl Who Kicked The Hornet's Nest (Luftslottet som Sprängdes). Directed
by Daniel Alfredson. With: Noomi Rapace, Michael Nyqvist, Lena Endre.
Writer: Ulf Rydberg from the book by Stieg Larsson. Sweden/Denmark/
Germany, 2009, 189 min., Dolby Digital, Color (DVD).