Some while ago, a friend asked me if I had seen this movie with Henry Fond, A Big Hand for the Little Lady. He told me about one scene by which one of the characters goes to the bank to ask for money to keep playing poker and gives his card's hand as a collateral. I reckoned that yes, I must have seen it, but wasn't sure. I had some images of it on my mind. Today I decided to verify it.
I hadn't seen it, and I'm grateful for that friend for bringing it up, because this movie is so good and clever and fun, I had a great time seeing it. A Big Hand is what many movies today want to be, with equal doses of witty, smart dialogues, well developed characters, amazing actors, a clever cinematography and a certainty of a good time for its viewer. At first, I was really anxious. A bit after, I couldn't help but be anything but amused - it is impossible not to have fun with Jason Robards' Henry Drummond, for example - and, at last, I was surprised by such a smart good movie, besides a nice chance to meet Henry Fonda and Joanne Woodward in some of their best.
An afterthought: this is the second Western in the week, and both couldn't be more different, despite sharing the same genre, as to say. Fred Zinnemann movie alludes to a land of nobody, a place where no one's safe - images and sounds in an outstanding cinematography tell about it. Today's film, by Fielder Cook, refers to a festive and light Wild West (even if there's tension and suspense in some moments), when all possibilities are on the table (sorry the pun).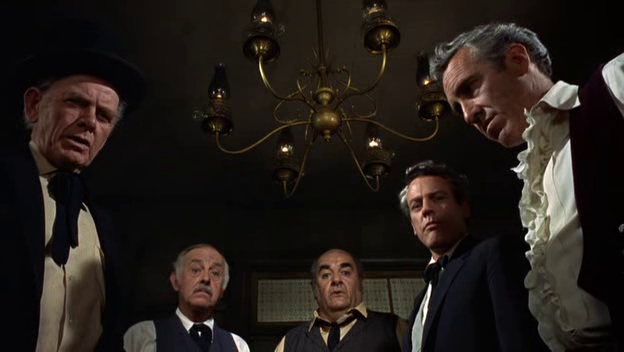 A Big Hand for the Little Lady. Directed by Fielder Cook. With: Henry
Fonda, Joanne Woodward, Jason Robards, Kevin McCarthy. Writer:
Sidney Carrol. US, 1965, 95 min., Mono, Color (DVD).